It's finally happened – I'm hosting a giveaway on Blogged Bliss!
When Knock Knock approached me about doing a giveaway, I couldn't resist. I've been using one of their products for over a year!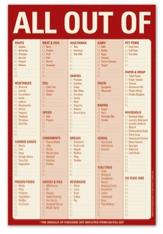 If you haven't already noticed, I'm a huge fan of making lists. So, when I saw this magnetic pad at Urban Outfitters months ago…it was like a dream come true. Trips to the grocery store became SO MUCH EASIER and let's face it, I was buying less crap and MORE of what we needed because I actually checked before I left the house! So, the first item in the giveaway is an All Out Of Pad…all your own!
BUT WAIT. THERE'S MORE!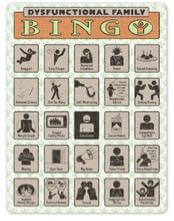 Knock Knock has also offered up TWO Bingo games, perfect for the holiday season. Christmas Bingo and my personal favorite, Dysfunctional Family Bingo (seen on the right). Complete with such gems as "Awkward Silence," "Door Slam" and "One Too Many," it stands to make your holiday get together a little more entertaining.
So, how can you snag all three of these awesome items from Knock Knock? Visit the Knock Knock website and see all the funny and Christmas/Hanukkah list worthy stuff, and leave a comment here! You can tell me what you'd ask Santa (or maybe Hanukkah Harry) for from Knock Knock's inventory, or tell me a little about your own dysfunctional family. I'll take entries until Tuesday (12/7) at 8PM CST, when I'll pick a winner at random from the comments. Good Luck!

**Winner Winner Chicken Dinner! Amanda – email me your mailing address and you'll receive your prize soon! Thanks everyone for entering!!!