Only I could do it. I know how to spend money ANYWHERE. And today I did it at the library.
(And no, not on late fees. DURR.)
(But yes, I've done that too.)
Anyway, after watching the trailer for the new Harry Potter movie due out in November (Thanks a lot TIFFANY) I made the noble decision that I'm going to read all the Harry Potter books this summer and watch all the movies, so when this one comes out – I'M READY. And yes, I'm implying that I've never read or seen any Harry Potter anything. (I can feel a nerd rebellion happening. Can you? It's like a stampede of dudes with wizard pointers and lightening bolt face tattoos. Not that kind.)
So, off to the library! I should mention I haven't been to a public library for probably 10 years – no exaggeration. I've been buying books and also a lot of NOT READING so libraries have no purpose in my life. However, I am not planning on buying all the Harry Potter books because dudes – that's a lot of dollars.
My first stop was making sure my library card was even working anymore. Turns out it was. And I didn't owe them any money! Considering I was a mere $1200 in debt when I used my library card last and couldn't pay it off for the life of me, this was welcome news. Then…off to the card catalog! Oh, they don't have those anymore? Yeesh.
I am not even joking you when I say that the last time I was in the library I had to use a real card catalog. At the time, the Walker Library had just installed COMPUTERS! WITH INTERNET! AND A WEBSITE! that was not exactly functional yet. Now, there's fancy stations with the ability to search the catalog AND RESERVE your books, all at your fingertips! Technology is sexy. Anyway, I navigated the website, and found that Harry Potter books were in fact kept in the children's section. Awesome. I'm nearing 30 and checking out children's books. Whatevs.
Except, they're out. OF EVERY HARRY POTTER BOOK EVER WRITTEN. Apparently not only did I have the idea to read some Harry Potter over the summer, but so did every other child person in the metro area. I put the first book on hold. As well as two adult books recommended by my mother and another I've been meaning to read. It seems as though the only way to get the book you want to read is to reserve it and have it delivered to the library of your choice.
(Do you see I'm number 445 of 445 people who have requested the new Tami Hoag book? I'll probably be moved to the #1 position in 2037.)
I walked out of the library without anything to read and was about to leave when I saw something called "The Bookstore." I walked in and HOLY CRAP! They're selling old books removed from circulation! They had a cart labeled "Children's Classics" and this is where I went buck-wild.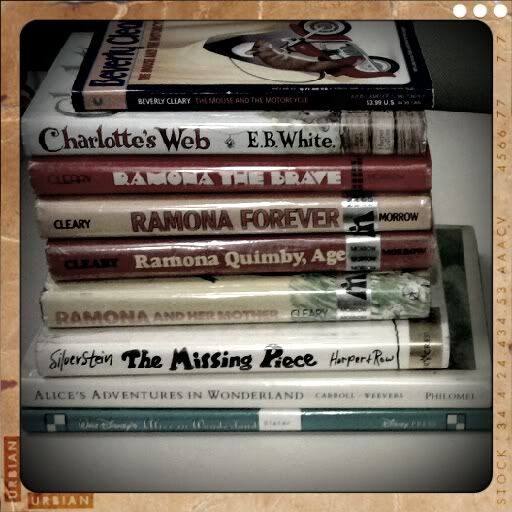 In case it's not clear in the photo, I walked out of there with:
Charlotte's Web by E.B. White
The Mouse and the Motorcycle by Beverly Cleary
Ramona Quimby, Age 8 by Beverly Cleary
Ramona the Brave by Beverly Cleary
Ramona Forever by Beverly Cleary
Ramona and her Mother by Beverly Cleary
The Missing Piece by Shel Siverstein
Alice's Adventures in Wonderland by Lewis Carroll
Walt Disney's Alice in Wonderland
All these books FOR $9.43. $9.43!!!
Obviously I have a minor obsession with Ramona Quimby books. I am essentially forcing Abbers to read them as well.
I also had On the Banks of Plum Creek and The Long Winter by Laura Ingalls Wilder in my hands, but since I didn't have the beginning books in the series, I put them down.
If anything while I wait for my Harry Potter book to become available, I'll read Charlotte's Web since I've never read it before. And then I'll read Harry Potter. And then maybe someday I'll pick up a book with swearing and murder in it like I normally do.