Archive for April, 2013
I've had The Clash in my head since Tuesday night. Except replacing "the law" with "the wall." It's just too fitting for Abby's most recent episode.
Tuesday night, as the three of us were at the in-law's home (waiting out another house showing) (buy my house), Abby and Papa were playing "bug hunt" in the basement. Apparently, Abby was enthusiastically running away from the vacuum when she ran straight into a wall (or a corner?), face first. I wasn't in the room, but could hear a thud followed by blood curdling screams. I could tell almost immediately that she was for-real-seriously hurt, but when I saw her on the bottom step of the basement stairs with blood covering her face and Papa's hand, I got woozy.
"Mom mode" kicked in and I quickly carried her up the stairs for a closer look. Nana got a paper towel and an ice cube, and we put them on her bleeding lip. It was then I realized it wasn't just a split lip, but two perfect teeth marks DEEP into her lower lip. I knew we had to take her to the ER. This was looking like stitch territory.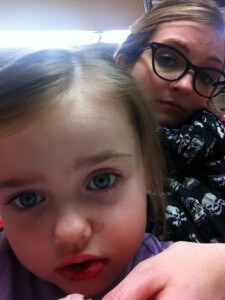 (My "I am not amused" face.)
This isn't her first trip to the ER rodeo. Back when she was nearly 1.5 years old we took her in for croup-related stridor. This though? Scary on a totally different level. She was hysterical from the pain and seeing all the blood, but we piled into the hubs' car and headed in.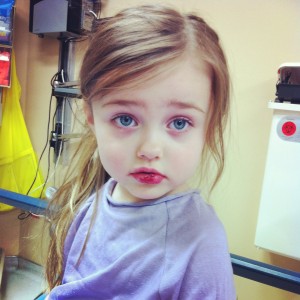 Thankfully, after having her lip cleaned up (and out) (gross) the doc decided that although she could put a stitch in each hole, they would probably heal up just as well on their own, with less irritation from the stitches. (THANK GOD. Holding my child while she gets a stitch in her lip? NO THANK YOU.) She was allowed to leave with nothing more than a printout of "laceration home treatment" and a blue slushie, with the nurse letting us know that her lip was likely going to look "like hamburger" for a few days.
(He wasn't lying. Also, he looked like Meatloaf aka "Bitch Tits" from the movie Fight Club. It really rounded out the whole ER experience.)
Abbers and I stayed home from school & work yesterday to let her face rest, and to ice her lip every few hours as the doc had prescribed. She used the time to practice being a princess. And also to eat all the food. Does a traumatic event usher in endless hunger? Girlfriend ate about 3,428 Angry Birds Honey Grahams.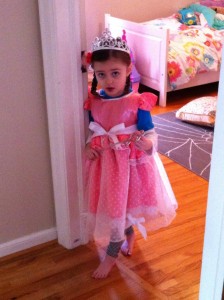 Today she went back to school and while her lip looks like something out of a horror movie, she assures me it doesn't hurt so I think she's on the mend. We took the train into downtown and I kind of felt like yelling, "STOP JUDGING, EVERYONE ON THIS TRAIN."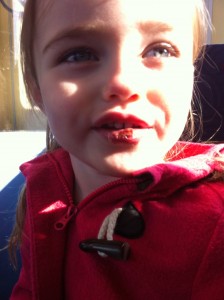 (Sidenote: I texted my bestie during this ordeal and she mentioned what I (of course) was thinking – "Has CPS stopped by yet? :)" because GOOD LORD. Thankfully this clearly was a "toddler coordination" issue, but I've heard horror stories of "interviews" during ER visits from people I've shared this story with. So glad that wasn't a part of this experience.)
All in all, quite the Tuesday night.
In house related news, we have another showing tomorrow (buy our house) but no offers yet. SOMEONE BUY MY HOUSE. KTHX.