(Where I complain about wussy school districts.)
So, as I mentioned yesterday, we got some weather overnight. First it rained, then there was sleet, then it snowed, but warmed up so all the ice melted. Thus, we were left with a big slushy mess.
Whatevs. It was passable. The roads were kinda lame, but I made it downtown like the rest of the world, and it only took me an extra 10 minutes from where I live in South Minneapolis.
However, I get to Abby's daycare, only to find out it's not opening until 9am. There are literally like, 50 parents and kids just standing around outside the daycare, along with some of it's employees. Apparently, my daycare follows the school closing lead of a suburb of Minneapolis. Edina. (They have a daycare center in Edina as well as our location in DT Mpls.)
Those of you who aren't from the area won't be familiar with Edina. It's the hoity-toity neighbor of Minneapolis. The fact that they decided to delay schools is almost ridiculous. Most of those fools drive Land Rovers anyway, so I doubt any of them had any trouble getting their kids to school.
I've made a graphical display of the situation:
Edina.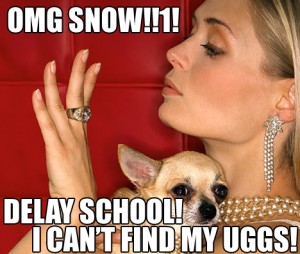 Minneapolis.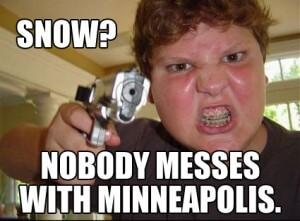 Anyway, after I arrived at Abby's daycare, a woman exited the building with her offspring and crabbily told me that Abby's daycare wasn't opening until 9am because of the weather. Because Edina schools had chosen to delay.
They delayed schools an hour. Just enough to eff me over and make me super late for work, AND miss the early bird on a parking ramp. (We're talking a $4 savings here people.) Anyway – EVERYONE WAS THERE. Teachers, room aides, kids, parents – EVERYONE. THERE. And a big sign on the door saying they weren't opening until 9am. It was 8:47. It was a total joke. And it made me crabby.
The end.