I realized yesterday as I was doing God knows what, that I have a tendency to talk about something here and then never really follow up with what happened with it. That's not helpful.
So, here's a bit of an update on how things are going in our house.
Abby's Sleep Training
Abby earned her bike. She made it 12 days of falling asleep on her own. After about a week, we started sitting outside of her door (first cracked open, then closed). Now we just read a book, say goodnight, and then leave the room. Granted, she's still stalling some nights for another 20 minutes (I have to go potty, I need a hug, where's my blankie), but we're not laying with her until she falls asleep anymore.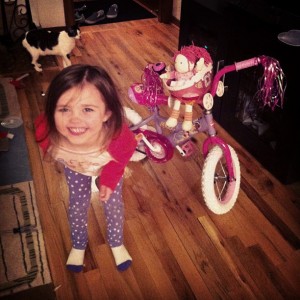 See also: we actually watched a movie after she went to bed this week. A WHOLE MOVIE. Now we need to work on getting her to bed sooner. (We recently started using a Dohm Sound Machine in her room, and it's amazing how much better she is sleeping. We used it in our room for a bit and it's really nice. Highly recommended.) Awesome level: FRICKING AWESOME.
Our House
We've had a total of 10 showings and 2 open houses. The second open house was for agents, and we got awesome feedback. One thought she might have a buyer, another stated he didn't think our house would last through the weekend. (I hope that guy doubles as a psychic.) Our 11th showing is happening in an hour. It's been trying to keep the house clean, but we've been doing a good job and only have to do minor tidying every evening and morning before we leave. Although, our dishwasher broke last night, so that's going to suck until it's fixed. (The part's coming tomorrow, and the hubs and I are going to try to DIY that shit. We'll see about that.) Basically, BUY MY HOUSE. Awesome level: Almost Awesome.
My Uterus
Sorry. Awkward title. I guess maybe not so much my ute as my bloodwork? Anyway, eight days after this post, I got back test results indicating the Anti-C in my system was no longer there. (HUGE EFFING SIGH OF RELIEF.) The Anti-D was still there, but from the Rhogam shot so no worries. The bigger issue now is that I still have HCG in my system. (In case you're not in the know, HCG is the chemical your body produces when you're pregnant (and is what pregnancy tests detect to give a positive result).) I wrote about how prior to the D&C that my levels were 132,000 IU/L (which is pretty high), but would drop after the procedure. It has dropped, but here I am, 3 months later, and still getting positive pregnancy tests. Isn't that fun? My levels were checked last Friday, and after last month's reading was 189 IU/L, I'm down to 98 IU/L. (5 IU/L or less is considered 0.) I can't believe it's taking this long. Apparently, neither can my doctor, as I'm having an ultrasound on Monday to make sure nothing was "missed," which kind of freaks me out, but I'm just looking for answers and "normal" to happen. (And no, not actually pregnant again.) Awesome level: Nope. Not at all awesome.
So, there you have it. Did I recap all the things? I hope so.